Fall Fund Drive Information and FAQ
#TJBands, #MusicHeals
Welcome to the TJ Bands Fall Fund Drive!  
This fundraiser is the single biggest contributor to our budget for the TJHSST Band Boosters!
The fundraiser will directly benefit all the TJHSST Bands including curricular, marching, drum
line, color guard, and other non-curricular band clubs through the TJHSST Band Boosters when
and if they are able to get together.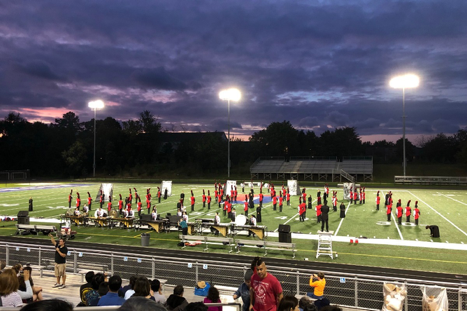 Why Fall Fund Drive? 
This fundraiser is for TJHSST band and color guard members to ask family, neighbors, and
friends for their financial support.  We do not have the ability to knock on doors and leave paper
tags like many of the base schools, so this is our way of fundraising!
How do I become part of the fundraising team?
Just share the link by email, Facebook, Instagram, printed flyer and ask for donations!
What is the goal of the Fall Fund Drive?
Our goal for the Fall Fundraiser Drive is to have money available for Mr. Ballard to be able to create enrichment activities and workshops for curricular band and other band groups, as well as for equipment and instruments.
What kinds of things will a donation to the TJ Band Boosters pay for?
Because this year is different, we truly do not know. We have already paid for guest clinicians
and sectional coaches this year, and expect to do that again. Booster funds pay for the following
every "normal" year:
Sectional coaches
Guest clinicians
Leadership camps
Equipment, including instruments
Uniforms
Student scholarships for extracurricular groups
Other items that Fairfax County Public Schools (FCPS) does not allow to be funded with student fees
Additionally, when needed, the Band Boosters sponsor fundraisers targeted for specialty
instruments or items from Mr. Ballard's wish list for use throughout the program.
Does your employer match donations to 501(c)(3) corporations? File to match your
contributions to TJ Band Boosters!
TJHSST Band Boosters has been added to Benevity, a tool that disburses charitable funds for
hundreds of companies.  With just a few minutes of effort, your contribution may be doubled, or
even tripled, per your employer's support commitment.
Is my donation tax deductible? YES it is! The TJ Band Boosters are a 501(c)(3) corporation
and all donations are tax deductible, as allowable by the IRS. You will receive a letter from the
TJ Band Boosters acknowledging your donation.
What if donors would like to pay by check?
No problem! Please make the check payable to TJHSST Band Boosters, put "Fall Fundraiser" in
the memo, and mail to TJHSST Band Boosters Fall Fundraiser (address provided upon request).
Check back during the campaign to see our progress toward the goal!